Drones and "Dragon Eggs" Protect VA Forests
As western states brace for another season of devastating wildfires, Virginia's foresters are rejoicing. They've conducted controlled burns on more acres than ever before, making catastrophic blazes here less likely. The preventive campaign got help from 40-pound drone that drops so-called dragon eggs on the forest floor.
The Nature Conservancy's Sam Lindblom guides a 40-pound drone 200 feet above the forest floor as it drops little balls filled with a chemical that ignites about 30-seconds after landing.
"The ball ignites the grass and leaf litter that's adjacent to it, and then the fire spreads," he explains.
Using drones and dragon eggs, these controlled burns wipe out dead wood, leaves and other debris on the forest floor, making bigger blazes less likely, and they get rid of invasive plants, leaving room for original wildlife habitat -- native trees, grasses and shrubs.
"Without fire you'll get a lot of sweet gum and red maple that before fire never really made it that far," says Dennis Gaston with the Virginia Department of Forestry. "There's a whole list of species that now are becoming sort of troublesome like weeds."
Before settlers came to Virginia, Lindblom says, these forests burned naturally with blazes set by lightning. Today, wild fires are less common on a landscape transformed by people.
"We don't see as much fire in Virginia as we would have 400 years ago, because our landscape is more broken. There are more highways. There are more people. There is more fire control. There are more rules and regulations. There are a lot of things that have interrupted the more natural pattern of fire that we would have seen pre-settlement."
So forest managers have stepped in to mimic nature and restore the balance established over centuries. Lindblom concedes setting low-level fires can be hazardous to teams of foresters. Zoe Colatarci with the U.S. Fish and Wildlife Service agrees.
"It's risky, because people have to walk through the middle of the woods, where there's not a readily identifiable safe place to be," he says . "There's fire around, and there are briars and holes that you could fall in and twist ankles. Sometimes people get confused about where exactly they are, so on occasion we've had mishaps where folks get a little bit lost."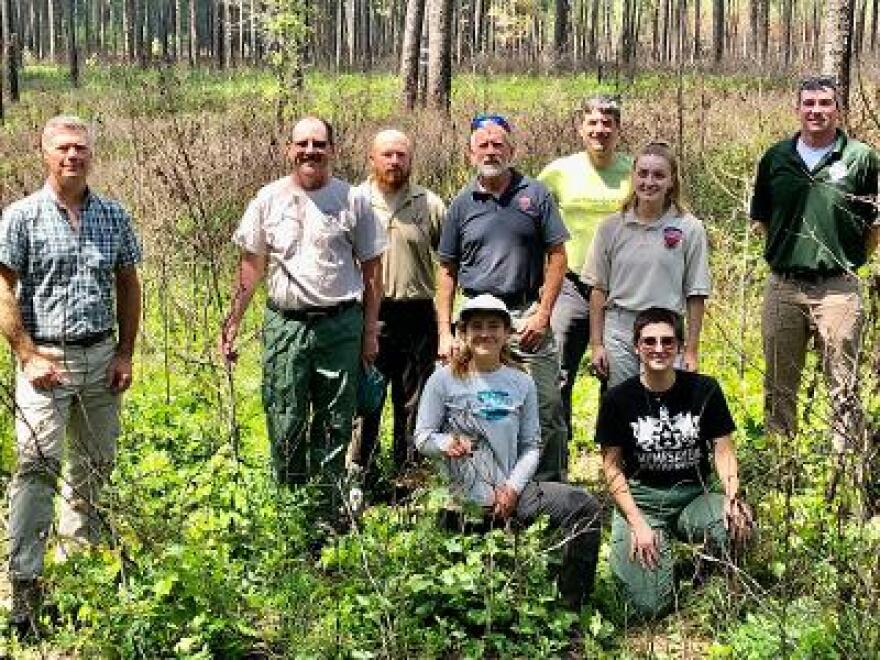 "The drone makes it a lot easier for like big spaces," Colatarci says. "When you're doing like 500 acres and you're trekking through it back and forth, the day is long and you're covered in ticks and cuts, but it's worth it, because you're doing good things for the forest."
With the help of the Nature Conservancy's $40,000 drone and ideal spring weather, Fire Program Manager Bobby Clontz says teams of forest managers have burned a record amount of land this year.
"In Eastern Virginia we were about 20% higher than our highest previous year, and in the western part of the state we were about 50% higher."
And at Fish and Wildlife, Gene Nawrot says cooperating with other federal and state agencies and non-profits is key to making controlled burns possible in more places.
" None of us could accomplish a prescribed burn ourselves, because in general you're looking at 15-30 people on some of these burns."
At Virginia's Department of Wildlife Resources, Matt Kline is already seeing results with a growing population of rare red cockaded woodpeckers on the Piney Grove and Big Woods Preserves in Sussex County.
"That bird needs fire!" he says. "It's also beneficial to a number of bird species and deer, quail, turkey."
And all of us should see the impact this summer and fall when experts predict the Commonwealth will see fewer wild fires and our foresters are freed to help battle blazes out west.