Virginia Sees Biggest Single-day COVID-19 Increase Since April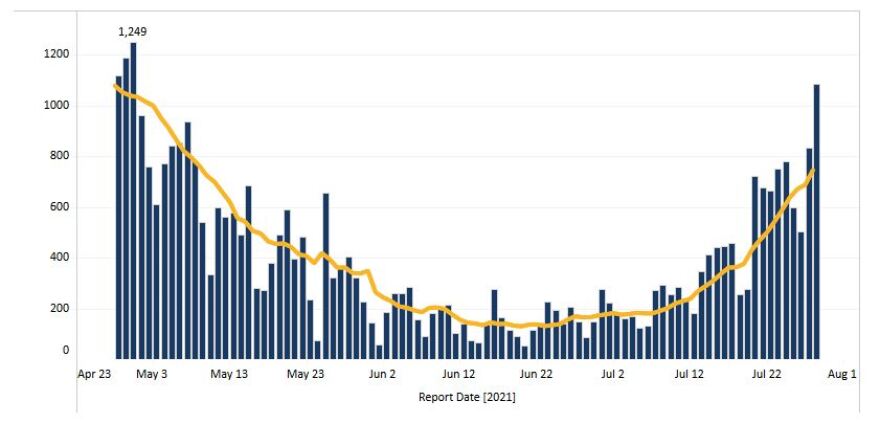 Virginia's surge of COVID-19 infections is still growing. Case numbers and hospitalizations have also continued to rise.
The health department reported 1,087 new cases Wednesday. That's the largest single-day increase since the end of April.
Almost 54% of Virginia's population is now fully vaccinated. But in many southwest Virginia counties, that number is closer to 30%.
Hospitalizations Double In Southwest Virginia
The health system that serves the southwest corner of Virginia and northeast Tennessee reported the number of hospitalized COVID-19 patients there has doubled in the past couple of weeks.
Ballad Health resumed its weekly community briefings Wednesday and reported 46 hospitalizations. That number was 20 a few weeks ago. Officials say forecasts indicate that number could hit 120 by the fall, which could force another suspension of elective procedures.
Ballad CEO Alan Levine called current COVID-related deaths preventable. About 95% of the people who recently died due to COVID-19 complications were not vaccinated, hospital officials noted.
Roanoke Area Sees Uptick In Vaccinations
In the Roanoke area, new COVID-19 cases have continued to grow. The Roanoke City-Alleghany Health District saw 230 new cases over the past week, about 97-percent of them in unvaccinated people.
But Doctor Cynthia Morrow also says the district has seen an uptick in the number of people getting a COVID-19 shot. "So I think that there are people who are really understanding that if they have been on the fence that it's time to get vaccinated. And that's great news that our vaccination numbers are increasing," Morrow said during a call with reporters.
The district reported about 2,500 vaccine doses administered over the past week. It had been averaging about 1,500 doses during most of July.