Conservators open time capsule found in Lee monument pedestal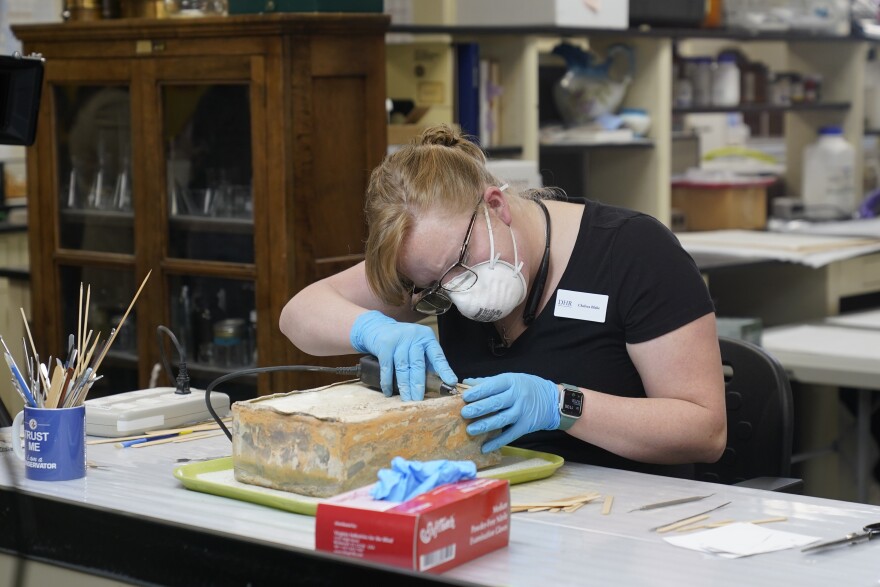 Conservators opened up a small lead box found instead the pedestal that held up the Richmond's removed Robert E Lee Statue Wednesday, finding a coin, books, and a cloth envelope.

Workers removing the pedestal made a surprise discovery, finding a small box in a huge block of granite.
The box had a height of 4 inches, a width of 8 inches, and a depth of 11.5 inches, making it roughly the size of a stack of office paper. The corroded lead and hardened mortar made it a mix of orange, beige, and gray.
In September when workers removed the Lee Monument they searched for a time capsule that had been written about in a newspaper from the time. But they never found the copper box described in archival documents as full of confederate memorabilia.
Governor Ralph Northam ordered the pedestal removed and work is expected to be completed by the end of this month.
The statue was the main staging ground for anti-Racist protests against police violence in 2020. The City of Richmond will take over the traffic circle once the removal is complete.
Conservators Chelsea Blake and Kate Ridgway worked for hours to open the small metal box. But it was difficult. The soft lead was encased in hardened mortar, creating a situation where tools had to be switched back and forth, utilizing a loud vibrating tool and more detailed instruments like scalpels, dental tools, and even sanded down popsicle sticks.
Historic documents describe a different kind of box being placed inside the base of the Robert E Lee monument. It was made of copper, not lead like this one, and larger.
After hours of grinding and prying, they opened up a small space large enough to get a high-tech camera inside.
The opening meant oxygen and humidity could harm what looked like a book inside the box. The conservators quickened their work, and eventually got it open.
"So right now we're seeing an envelope of some kind. It looks like maybe a cloth envelope….and under that are some printed pages," Ridgway announced as Governor Ralph Northam looked over her shoulder.
In addition to a coin, inside were three books, including one with a damaged spine that appeared to be "American Ephemeris and Nautical Almanac." Some of the papers appeared to be signed by James Netherwood. His quarry provided stone for many of the city's monuments and buildings in the late 1800's.
Humidity and water damage were apparent. An expert in paper conservation was also on hand to look at the items.
This report, provided by Virginia Public Radio, was made possible with support from the Virginia Education Association.