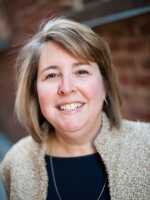 Sandy Hausman
Radio IQ Charlottesville Bureau Chief
Sandy Hausman joined our news team in 2008 after honing her radio skills in Chicago. Since then, she's won several national awards for her reporting from the Society of Professional Journalists, the Society of Environmental Journalists, the Radio, Television and Digital News Association and the Public Radio News Directors' Association.
Sandy has reported extensively on issues of concern to Virginians, traveling as far afield as Panama, Ecuador, Indonesia and Hong Kong for stories on how expansion of the Panama Canal will effect the Port of Virginia, what Virginians are doing to protect the Galapagos Islands, why a Virginia-based company is destroying the rainforest and how Virginia wines are selling in Asia.
She is a graduate of Cornell University and holds a Masters degree in journalism from the University of Michigan.
This year, the Jefferson-Madison Regional Library is marking its 100th anniversary – screening a documentary produced in collaboration with the local historical society.

In 2015, Virginia's General Assembly passed a law that barred state regulators from looking at the financial records kept by the state's largest utility – Dominion. This year the books were open, and customers will be paying a little less for power.

Former Governor Terry McAuliffe says crime was low during his time in office, but Republican Glenn Youngkin is coming on strong with ads accusing McAuliffe of being soft on crime. Sandy Hausman reports on why Republicans are raising the issue, and what impact it might have on the election of Virginia's next governor.

When the city of Charlottesville removed statues of Robert E. Lee and Stonewall Jackson from public parks, many people figured the debate was over, but the city has some additional decisions to make.

COVID-19 has put the brakes on many Halloween parties and haunted houses, but a large park in western Albemarle County is offering a true holiday experience celebrating the creepy, crawly critters in nature.

A Virginia firm has announced plans to expand in partnership with the Hershey company to create chocolate with a new sweetener that has few calories or carbs. A scientist here in the Commonwealth found a way to produce large amounts of tagatose cheaply enough to supply the mass market.

Dozens of students and government officials gathered on the banks of the South River in Waynesboro this week to release over a thousand fresh water mussels. As Sandy Hausman reports, those tiny shell fish could make a big difference in water quality.

When someone is killed in a traffic accident, loved ones often place crosses or flowers or balloons at the site. Now, the city of Charlottesville is offering an alternative that will honor victims while encouraging safe driving. Sandy Hausman has that story.

Charlottesville is again searching for a manager after Mayor Nikuya Walker and her allies attacked the current manager, Chip Boyles. Sandy Hausman reports on his decision to step down.

It's easy to get discouraged about the state of the environment – to feel helpless in the face of climate change and on-going development, but one man in Albemarle County isn't giving up. He's doing his part to save native birds as Sandy Hausman reports.