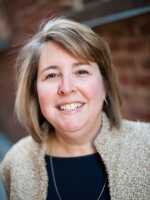 Sandy Hausman
Radio IQ Charlottesville Bureau Chief
Sandy Hausman joined our news team in 2008 after honing her radio skills in Chicago. Since then, she's won several national awards for her reporting from the Society of Professional Journalists, the Society of Environmental Journalists, the Radio, Television and Digital News Association and the Public Radio News Directors' Association.
Sandy has reported extensively on issues of concern to Virginians, traveling as far afield as Panama, Ecuador, Indonesia and Hong Kong for stories on how expansion of the Panama Canal will effect the Port of Virginia, what Virginians are doing to protect the Galapagos Islands, why a Virginia-based company is destroying the rainforest and how Virginia wines are selling in Asia.
She is a graduate of Cornell University and holds a Masters degree in journalism from the University of Michigan.
The pandemic has reminded us that people are more important than things, and after more than a year of contemplating all the stuff in your house, you might just be ready to declutter or downsize. Matt Paxton is ready to help. The Richmond man was a featured cleaner on A&E's program Hoarders. Now he's out with a book and a new TV series.

You've probably heard the expression 'It ain't over 'til the fat lady sings.' It's a favorite of sportscasters. But the cliche refers to the world of opera, where plus-sized sopranos perform arias that bring down the house. Now, an opera company in Virginia plans a production in praise of the fat lady – an adaptation of a Broadway play called Fat Pig.

After struggling to safely stage plays during the pandemic and then grappling with issues surrounding theater management, the American Shakespeare Center in Staunton is back with a new creative director and a new style of decision-making.

Ralph Northam leaves office at the end of this week, having pardoned more prison inmates than any other governor, but one man -- sentenced to 132 years for a robbery it appears he did not commit – is still waiting. Sandy Hausman has his story.

It's been just over four years since a new city council began meeting in Charlottesville following the racist rally that left three people dead and many more injured. Since then five city managers have quit or been fired and a dozen other people tasked with day-to-day affairs have left.

It was another tough night for about 37,000 residents of Louisa County. Nearly all of Dominion's customers in that 500-square-mile area lost power in Monday's storm, and many were still without service when the sun went down Tuesday.

Governor-elect Glenn Youngkin has announced that he will undo part of Virginia's Clean Energy Act – pulling us out of an 11-state partnership designed to lower pollution from coal and gas-burning power plants. Environmentalists may challenge his right to do that. And there's an economic argument that could keep the Commonwealth from leaving the Regional Greenhouse Gas Initiative.

Albemarle County has become the latest target in a series of lawsuits filed by various groups unhappy with how schools teach about race-related issues. This time, a right-wing Christian group based in Arizona is suing to protect what it calls the constitutional right of parents to direct the education of their kids. Sandy Hausman has more on that story.

With children out of school for the holidays, many people may be looking for ways to keep kids occupied. At the Wildlife Center of Virginia, the outreach team has an idea – a new video on its YouTube channel designed to connect viewers with the sounds of the season. Sandy Hausman has that story.

The traditional holiday poem tells us that on Christmas Eve not a creature was stirring, not even a mouse – but here in Virginia at least two orphaned rodents were on the move as Sandy Hausman reports.