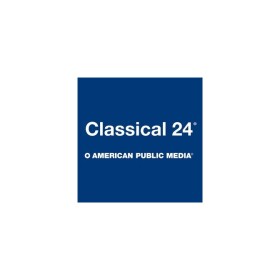 Afternoon and Overnight Classics on WVTF Music
Join Classical 24 hosts Julie Amacher, Andrea Blain, Scott Blankenship, Jeff Esworthy, Ward Jacobson, Valerie Kahler, Jillene Kahn, Elizabeth Lyon, Kevin O'Connor, Melissa Ousley, Mindy Ratner, Elena See, Steve Seel, Steve Staruch and Lynne Warfel for the best in classical music every day and night.
You can catch WVTF's Classical Programming during these times:
Monday - Friday:
Saturday:
12 AM - 9 AM
11 AM - 1 PM
Sunday:

The groundbreaking choreographer, who is also the first Black director at the Metropolitan Opera, says she found self-expression through dance.

This piece, from a new album of orchestral works by Richter, depicts the opening of Virginia Woolf's Mrs. Dalloway by pairing pulsating rhythms with the composer's signature wistful melodies.

The creative couple, who married in 2020, thrive on gratitude, community and the new approaches they've taken in the wake of the pandemic.

The Boston Symphony Orchestra recently returned to its storied summer home, Tanglewood, after the pandemic canceled last season. With reopening comes normalcy, as well as an opportunity for growth.

The rising young baritone, searching for diversity in the opera house, tries on his composer hat by putting a Black spin on Rossini's The Barber of Seville.

The link between the award-winning British pianist and the history of this beloved African-American spiritual is deep indeed.

The musicians of the versatile, Grammy-winning Attacca Quartet have transformed themselves into an electronica-dance-ambient string quartet for their new album, Real Life.

The Pulitzer-winning composer began her career with a creative blank check, but she's spent much of the past decade moving sideways. Her latest trick: reinventing as a songwriter.

The rising young violinist discovers his musical roots and questions the traditional borderlines of the repertoire.

Pianist Min Kwon asked 70 artists to examine and interpret the patriotic standard on solo piano. "What they have in common is what they want America to sound like," she says.